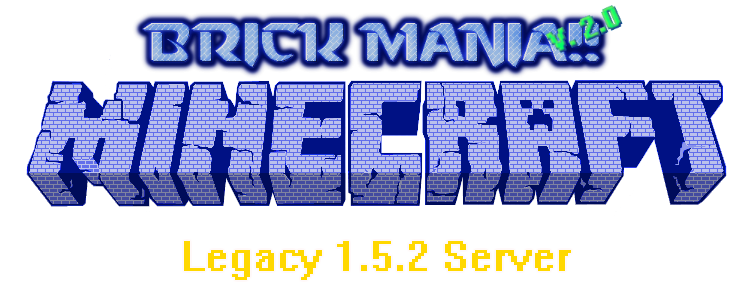 BRICK MANIA - MINECRAFT LEGACY SERVER 1.5.2
Brick Mania is now hosting it's very own Minecraft server! We are running version 1.5.2 with a few great game-changing modifications to keep it fun for everyone. We like to keep the retro spirit in heart as well

ABOUT
24/7 Dedicated Minecraft Survival Server for Windows.
Survive, build, and explore with your friends!!

RULES
The following rules are asked to be kindfully respected, for the sake of game-play value and others
1. No Griefing or Spamming - Nobody likes a world hog (even if it's an "endless" one)
2. Respect Villages - Don't go slaughtering every village you find for no reason, it gets boring fast
3. No building within 16 chunks of the spawn (around 256 square blocks)
4. No stealing! If you are reported stealing, provided the evidence, you will be banned!
5. Have fun! - Not technically a rule, just enjoy your stay and role-play!

THE MODS INCLUDED
I take no credit for making any of the mods used on the server.
All credit respectfully goes to the mod creators; Thank you!
Here is a list of the mods we use on our server

Code:

Better Dungeons (Chocolate Quest)
Biomes O' Plenty
Block Physics
Carboniferous Era
Doom-like Dungeons
Gravestones
Jammy Funiture
Lanterns
Lots o' Food
Millenaire
Minecraft Comes Alive
MoCreatures
More Doors
More Swords
RPG Inventory
Small Boats
Steamship
Unlit Torches

SERVER INFORMATION
Server-IP: 98.30.185.101
Download and Installation:
http://brickmania.forumotion.com/t1280-resource-bm-minecraft-1-5-2-client#12299
Last edited by Gothboy77 on Fri Jun 26, 2015 10:08 am; edited 6 times in total
Thank you kindly, Mega Bear
INFORMATION:
We have added a new mod to the server.
This means all clients must download and install the newest MCLegacy152.zip
Code:

Lots o' Food 1.5.2
This mod adds extra food and recipes to the game.
You can find a list of specific crafting recipes on the
Official Thread
CAUTION:
Because of the way Lots o' Food works, the BM-MC Server had to be restarted. All previous worlds have been lost. Hopefully now that the server is more stable, we won't have to deal with this issue again.
We are sorry for this early inconvenience.
The server is back online
no more world resets you hear me fella? It's actually a relief cause my last house sucked but this time I'm going to make one that doesn't suck and I don't want to lose it
Haha yes, very sorry. I agree it was a needed server change though. I am sorry about the loss of your house, Mega Bear.
We shouldn't need any more server resets from now on though, so I am excited to see your new home

Yes, Mega Bear, Because I had a problem connecting due to some error yesterday, i hope he fixed it by now.

I'm off to see!
Noob Gamer





Posts

: 2



Massive server performance tweaks and changes!
All clients will need the newly updated MC1.5.2Legacy.zip
Code:

-Torches have a lifespan, and must be lit with flint and steel/tinder box
-Forge Chunk cache of 16 bits now applied. Outta improve chunk loading
-Maximum ticket count per mod increased from 200 to 256
-Maximum chunks per ticket increased for 16 to 32 bits
-Server dedicated ram increased from 2 to 3 Gigabytes
-Pegasus (Flying Horse) mobs significantly decreased
-Golem Boss disabled entirely - way too OP
-Werewolf mobs significantly decreased
-Fire and Cave Ogre chance decreased
-Slime mob chance decreased
-Dungeon Generation Decreased
-Less ore containing volcanos
-New Logo

Additionally, the following mods have been added
-Colored Glass
-Lanterns
-Block physics

Additionally, the following texture packs have been added
-Pixel Perfection
Some specifics:
-Torches burn for a whole day from the time they are placed, afterwards they will disintegrate. They have a very small chance to go out right after being lit
-Lanterns burn for 2 days, but can be refilled with oil, animal fat, or tinder to last longer
-Glowstone still glows forever
-When you die, a gravestone will be placed near that area. Gravestones take 2 days to disintegrate if in lava, otherwise they last for quite a while (I'm not sure how long, around 256 Minecraft days)
-People can only loot one item from your grave, afterwards it is locked
-If you are the grave owner, your most recent grave will provide a light beam (might disable if acts buggy)
It may seem as if I have nerfed the server a little, but this is not the case.
The server was over-populated with certain mobs and had a few performance issues in the background
The gameplay value and server performace is of top concern for our survival server
My sincere apologizes to fellow Minecrafters who lost their home during
this time of crisis. I hope you will still find a nice area for a new beginning
on the new BM 24/7 1.5.2 Legacy Server.
Pardon the update, but I discovered a conflicting Block ID mismatch.
It's been fixed via server and client configuration.
All clients will need the most recent MCLegacy152.zip to join
Code:

June 22, 2015 @ 9:36 PM
-Fixed a block ID mismatch
-Forge chunk cache size now 64-bits
-Added more swords
-Added more doors
-Added steamships
-Added furniture

This sounds pretty cool actually, I'll probably drop by sometime!
Moderate Gamer





Posts

: 164




---
Permissions in this forum:
You
cannot
reply to topics in this forum